CUBA WEST: Full-Time Schedule of Activities (515.575)

Our organization
leads groups to participate in humanitarian-environmental projects with meaningful contact through citizen science marine conservation, cultural activities and community support. Your author-led, full time schedule of educational exchange focuses on the
Guanahacabibes Peninsula
and Havana to develop publishable updates for global conservation recognition & our 2nd
ecological book.
You'll meet with &

directly provide support

benefiting local Cuban marine biologists & professionals, private business owners, chefs, teachers, pastors & church members.
Day 1: Guanahacabibes National Marine Park
After landing in Jose Marti, Havana Airport participants are escorted directly through the remote jungle to the western most point of Cuba and stay in the only group accommodation available – Villa Maria la Gorda. Situated in this UNESCO Biosphere reserve, Guanahacabibes peninsula is where participants will invest their energy and time alongside the local marine park biology team, Cuban marine professionals and local village residents to propel hope in action.
Arrive Havana Jose Marti Airport by 2pm
Transfer to Guanahcabibes Peninsula directly from Havana arrive around 8:30pm
orientation and instruction about Cuban culture, the Jurassic, and rural farming environment as well as preparation for your guided marine monitoring project over the next few days. (included) about 5.5 hours drive time
Upon arrival, check in & attend marine conservation briefing with Dr. Dorka & local Cuban Marine Professionals & Instructors: (1 hour meeting)
Dinner & accommodations (included)
Day 2: Environmental Lionfish Removal

& Direct Support for the Cuban People

Learn about invasive lionfish, the damage they cause to reefs and how to be a part of the solution with Dr. Dorka's marine biology team. Participants learn how lionfish reduce the number of native reef by 79% in 5 weeks and release up to 30,000 eggs every 4 days. Learn how to spot and safely remove lionfish (using zookeepers) during aquatic immersions in the Guanahacabibes Marine Park. Then, enjoy an evening of meaningful engagement centered on marine conservation and direct support including humanitarian donations for the Cuban people of La Bajada village including beach cleanup supplies, art supplies and basic items.

Breakfast (included) & Lionfish Presentation 1 hour
Two tank guided immersion – lionfish small group teams with Cuban Marine Professionals (included) 4 hours
Lunch (included) 1 hour One tank guided immersion & marine ecosystems discovery (2 hours) ✓ Conservation presentation by Dr. Dorka's team – overview of National Park Ecology 1 hour
Dinner (included)at local village of La Bahada (included) 2.5 hours
Accommodations (included)
Day 3: Environmental Coral Study & Restoration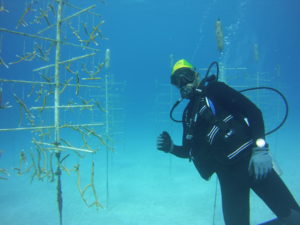 Monitor the remote coral walls that inspired the groundbreaking conservation agreement between the Tampa Bay Florida Aquarium and Cuba's National Aquarium in Havana. By studying Cuba's healthy reefs, the Florida Aquarium hopes to learn ways of bringing back the Sunshine State's coral. Their partnership has established a new coral nursery in the Gulf of Mexico off the coast of Guanahacabibes Peninsula National Park.
The Florida Aquarium provided the structures and know-how and taught the entire process to Havana aquarium. Participants will learn about growing & planning staghorn coral as well as how to maintain the structure.
Breakfast (included) & Coral Nursery Presentation by Dr. Dorka

two tank guided coral wall immersions 4 hours
Lunch (included) 1 hour
One tank guided immersion & coral nursery maintenance 2 hours
Dinner & accommodations (included)
Day 4: Environmental Dive for Debris
& Humanitarian Community Beach Clean-up

This program raises awareness about the impact of plastic pollution, influences social change by encouraging participants to avoid single use plastics and to actively remove plastics from dive sites and beaches in Guanahacabibes National Marine Park alongside local Cuban villages including La Bajada.
Breakfast (included) Plastics Pollution Presentation by Lic. Osmani Borrego 1 hour
Two tank guided immersion & dive site trash collection using Project AWARE Foundation's underwater mesh bags. Small teams will work together with Cuban Marine Professionals (included) 4 hours
Lunch (included) 1 hour
Afternoon coastal beach cleanup with local village residents


Dinner & accommodations (included)
Day 5: Environmental Coastal Education OR Sea Turtle Conservation (depending on season)
Cuba Scuba is partnering to implement a new program with a humanitarian fundraiser to purchase 30 bicycles for a biologist led tour of the coastal mangroves. This will also become a direct revenue source for local Civil Society Cubans of La Bajada village for bike rentals. Depending on the season participants will have the opportunity to learn from the local biologist about the coastal environment and endemic animals to Guanahacibibes peninsula and/or also participate in guided exploration for turtle conservation
Breakfast (included)
Sea Turtle nesting, migration or mangrove habitat conservation presentation 1 hour (SEASONAL)
Two tank guided immersion (4 hours)
Lunch (included)
Optional ecological guided bike tour/trek led by biologist team or evening visit to sea turtle nesting with marine biology team to monitor nests, quantity of eggs/ hatchlings (Turtle season – mid July only)

Farewell dinner

& accommodations (included)

Day 6: Ecological Entrepreneurship Experience

Participants spend the afternoon & directly benefit the privately owned, world renowned tobacco farm of HECTOR LUIS HOMBRE HABANERO and enjoy the ecological lecture to learn why cigar aficionado experts have awarded this farm top recognition in the cigar industry for its tobacco– sold to Cohiba and Montecristo brands. Learn how many leaves are maintained PER plant, see how they are dried, rotated and aged.
Watch them hand-roll the cigars by private locals who've mastered and passed down this art through the generations.
Understand this peculiar blend of entrepreneurship meets socialism as the manager explains their supply chain,

business practices and operations. Enjoy a traditional Cuban lunch & with children's conservation play & live music.
Breakfast (included) 1 hour
TRANSFER to Pinar del Rio (included) 2 hours
Paladar Private Lunch & Tobacco Farming lecture (included) 2.5 hours
TRANSFER to Havana 3-4 hours
Dinner in Havana (included)
Privately owned B&B, Casa Particular (home stay) double occupancy (air conditioned) (included)

Day 7:

Havana- History & Humanitarian Support
Explore the rustic neighborhood that's been transformed by homes while directly supporting the Cuban people. Participants gain understanding and insight into the history and the revolution with our English-speaking guides, certified in Cuban history while strolling through the capitol.
Learn about Spanish, Russian, African and American influences that mingle together in mish-mashed, architectural styles.

See the influence of the Catholic church, the San Cristobal. Stroll through Plaza de las Armas' second-hand book market.
Humanitarian visit to local school convocation & optional school supply donations 1 hour Breakfast meeting with local Cuban entrepreneur (included) 1 hour




Walking tour of Old Havana & discussions with certified guides on the architecture and history of the city (included) 3 hours

Paladar private restaurant lunch in ecological forest reserve in Havana proper. Meet the owner to learn about how he started this new private business in tightly regulated Habana with private labyrinth gardens (included) 2 hours ✓ Dinner in Havana (included) 2 hours

Privately owned B&B, Casa Particular (home stay) double occupancy (air conditioned) (included) local private artist
Day 8: Havana Conservation Through Art

Participants explore art mediums of painting, tile, sculpture, and music to absorb Cuban creativity in transforming an old water tower dump into a community art center.
Then, explore the rustic neighborhood of Jaimanitas that's been transformed by local private artist, Jose Fuster. Meander through his uplifting style tile mosaics and see how his determination improved the economic situation of all his neighbors. Enjoy a private lunch in his family's home.
The culmination of your humanitarian-environmental project includes a private antique car ride

throughout old Havana with your own cuentapropista (entrepreneur /owner).
Discuss how his privately-run business thrives amidst socialism as you reflect on all those meaningful exchanges that will transform your heart and renew your soul.
Enjoy the diversity of culinary experiences in the private paladar, el Mediterraneo, where you'll talk with Chef Luigi about their organic farm and sustainable seafood sourcing. See why no pesticides = no runoff to deteriorate the pristine marine reef ecosystems around the island.
Authentic coffee & traditional breakfast meeting with local Cuban entrepreneur (included) 1 hour

Meet artists of Muraleando community art center 1.5 hours
Meet local artist Jose Fuster (or family members) Fusterlandia -Picasso of the Caribbean 1 hour


Private Lunch in Artist's Family Home (included) 1.5 hours

Meet with local "cuentapropista"(entrepreneur) with private Antique Car ride (included) 1 hour
Private Music Concert – traditional Cuban music
Meet with Chef Luigi Fiori to discuss sustainable seafood & organic farm sourcing & Paladar private restaurant dinner at El Mediterraneo in Vedado, Havana (included) 2 hours
Privately owned B&B, Casa Particular (home stay) double occupancy (air conditioned) (included)
Day 9: Depart Havana

Authentic Cuban coffee & traditional breakfast meeting with local Cuban entrepreneur (included) 1 hour
Ground transfer to the Havana Jose Marti airport (included) 30 mins
Depart!