Research for 2nd book:

CUBA Ecology under General License


515.575 Humanitarian-Environmental Projects
Privately owned & operated, AW Futures, LLC is an organization that offers

group travel

to understand the setting in which Cubans experience their own environment and efforts to protect/conserve it, while
engaging in meaningful interactions

to

support the civil society

 and strengthen

private Cuban citizens

who are "cuentapropistas" (entrepreneurs of Bed & Breakfasts "casa particulares", private restaurants "paladares", local artists, local church members and others in the burgeoning private sector).
The purpose of this meaningful exchange is to participate in our humanitarian-environmental project that produces publishable results for our 2nd book, CUBA Ecology. This environmental aquatic project directly supports the Cuban people by predominantly contracting and developing small scale private enterprise for accommodations, meals and transportation while uncovering shareable data for both American and Cuban organizations.

To understand Cuba's environment, we must understand its people and give support to community project leaders.  The two are intertwined..inseparable. Our marine & cultural findings for the Cuba Ecology book support a shared with

marine science organizations

including the Guanahacabibes Biology Team (EcoVida), The Center for Marine Research of the University of Havana (CIM) and The Havana National Aquarium as well as humanitarian support to the LEC – Evangelical League of Cuba.
Our environmental project discoveries and information are collected using four methods:
1. Marine Site Diagramming Project

Experienced Participants (Divemasters and above) can team up with local environmental ecology experts / Cuban marine professionals to accurately diagram Cuba's marine sites. Hand drawn maps record site topography, depth, and landmarks. These drawings are compiled and compared to serve as the basis to digitally re-create aquatic environmental maps 

for use in section 7

of our 2nd ecological book.
Digital site maps will be shared with local marine professionals for briefings with future visitors and the Center for Marine Research in Havana.
2. Coral Reef & Fish Monitoring

Photographic & quantitative data of coral formations and marine animals are documented to be used in

section 5 of the Cuba Ecology book

. During this project, participants learn about the most common marine animals and corals in this region from local Cuban marine biologist, conservationists and marine professionals.
Photography, interviews and surveys are the primary instruments for identifying and quantifying the marine ecology and the local and global threats faced. The group is divided into sub teams of 8 or smaller- each led by an ecological environment expert and local marine professional.
3. People-to-People Humanitarian Environmental Engagement

The educational group is led to engage in people-to-people interviews and discussions with locals on current conservation, environmental efforts with the Marine Protected Areas as well as how they balance sustainable seafood efforts with local private restaurant owners.
We engage and support in the removal of invasive lionfish and other locally led marine conservation initiatives such as maintaining coral nurseries and protecting migrating animals such as sea turtles and sharks.
Our groups predominantly support local paladares which are private restaurants. We forge friendships with the owners who share with our groups how they navigate shortages and government regulations while sourcing sustainable seafood and organically farmed produce.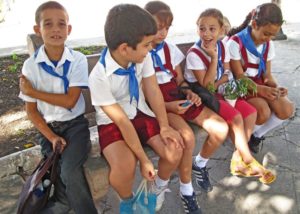 Participants also engage in

meaningful exchanges with artists and private entrepreneurs 

about the social and cultural landscape in which they operate and their ecological effects. Travelers come alongside to support local community grassroots projects.
4. Historical Feedback
Participants are given a photography shot list to capture cultural and historical imagery and  a survey to collect informal feedback to update the background in the book on the current situation in Cuba since the first publication in 2003.

Full Time Schedule of Activities
for groups of 15-40 travelers
Each

humanitarian group

is led by a minimum of one employee, paid consultant, or agent of AW Futures, LLC.
The Cuba Scuba team draws upon their unique and comprehensive knowledge of Cuba to ensure each humanitarian benefit to the Cuban people leads to meaningful discussion for participants and also captures important information for publishing the 2nd book. Participants engage in a variety of purposeful meetings that directly benefit the 

local Cuban society

including experts in the marine, ecological environment, private business entrepreneurs, artists, teachers, chefs and religious christian church members.
Our 2nd book,Cuba Ecology supports the ground-breaking

bilateral marine research agreements 

between the United States and Cuba.
These agreements allow participants the unique educational exchange opportunities to learn about both conservation efforts and cultural studies with a predominant focus on supporting private entrepreneurship in Cuba.
Our 1st Book, Cuba Scuba, Published 2003, 
ISBN #0944428657

1.  21 aquatic ecosystem regions around the island
2. 27 corresponding marine site maps
3. What type of marine environments to expect
4. Hundreds of photos of Cuba's marine ecosystems
5. Detailed descriptions of marine immersion sites
6. Aquatic Coastal operations & equipment
7. Historic 1898 shipwreck diagrams
8. Protected marine areas & national marine parks
8. Cultural exploration and engagement with photos
9. Historical origin references to regions
10.Private Entrepreneurs: paladars, casa particulars
11. Useful aquatic terms in spanish
12. Embassy information in Havana
13. American travel regulations & experiences
14. Airline information, weight restrictions, schedules
15. Suggested humanitarian donations & people support
16. Currency Information
17. Insider tips and MORE!